At the Generation Hero event, held in a mansion in Miami, top leaders of Empower Network gathered for the companies quarterly conference. Where as past conferences were always open to all members, a rep had to earn his or her way to this one by points earned from sales. However, the event was available via Livestream to all members.
One purpose of this weekend is for those making the most money with the company to do an over-the-shoulder look at how they do what they do. Dave made some tweaks to the compensation plan, and shared the changes. Leads expect to see a major rush of new members, and David has said that the next quarterly even could easily have 5000 to 10,000 attendees, representing that Empower Network "is back."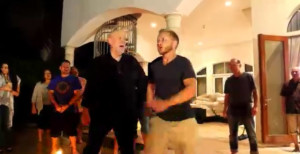 Friday night included breaking boards and a Firewalk across burning hot embers. Earlier in the evening, when polling those present for ideas, someone said it seemed like there was a big elephant in the room that no one was talking about. Later that evening, David Wood, founder of Empower Network, revealed new information about that elephant. When David Sharpe left the company, the "cover story" was that he needed time to for medical treatment for Hepatitis C contracted from his earlier life of drugs (he used the fact that he came from that background in all his advertising, so no secret there).
Wood said that Sharpe was given 40% interest in the company, and that he left because of company issues, and he was worried about his reputation. Sharpe apparently demanded a cash value settlement for his share of the company, at a time when the company was going through other issues, and the money was not readily available. Eventually, in about January 2015, a settlement was reached which included paying Sharpe a lower amount, in exchange for dropping other agreements such as a non-compete. At that time, Sharp seemed to become more publicly visible, offering coaching and training seminars. In January 2016, Sharp began promoting MLSP.  So David Sharpe is back in the public eye.
Wood also stated that he broke up with Priscilla, the mother of his son five months ago.  She has custody, but he has some visiting rights.
Top leaders like Lawrence Tam, Tracie Walker, and husband/wife team Justin and Dee Verringia, and Aron Rashkin, Mike Hobbs, and Paul Hutchings have stuck with Empower through thick and thin, while others like Tony Rush, John Lavenia, and Randy Schrum bailed last year to join up with Dubli.  Empower has always a very successful group in Portugal, and recently updated training materials to include Spanish, Portuguese, and German.
David assured that all the issues are in the past, and that Empower Network has established new corporate values, including testing of all funnels.  As the funnels are tested, they will continue to improve to get maximized conversions for members.  The new compensation is in place and doing well.  The next quarterly event will be held in Nashville April 21-23.
NOTE: This author is a member of both Empower Network and My Lead System Pro (MLSP), and feels like a friend or child of a divorced couple who doesn't want to get involved in the fight, or take sides with either party.  Leaders at the Miami Generation hero event insisted that David Wood has shown more persistence and passion and even love for his membership than any other leader in industry history.