Creating Videos
Creating videos is one of the best ways to build a list of business opportunity leads. Videos help a person to know, like and trust you, and when that happens, they are more likely to buy from you.
Videos marketing, like article marketing, should provide value, i.e. real content that is useful to the viewer. One suggestion is to provide a ratio of four to nine videos, per each sales video. If you only build sales videos, people will not come to trust you, and will quickly tire of your repetitive message.
It's been said by experts who have done hundreds of videos that the videos that are the best, are the ones where the presenter drops his or her guard, and reveals his own personal flaws and foibles. For example, if you were considering a home business opportunity, would you rather go with a guy who was constantly successful? Or a person who had struggled to achieve results, and maybe even been through a bankruptcy.
Each video should tell a story. That is a fine art to tell stories. One idea, is to open the video with a hook… the you keep the reader hanging, waiting. For example, ask a question, or start a story, then go on to another story before closing the first story. By the way, this is called an "open loop."
Below is a sample YouTube channel. If you just one video a week (and take a couple of weeks off for vacation), you would have 50 videos a year. In five years, you would have 250 videos! Your first 50 videos will be your worst. You will be learning the tricks of the technicalities, lighting, background, and content. Overtime, you will improve, you will observe nuances in other videos, and your videos will get better and better.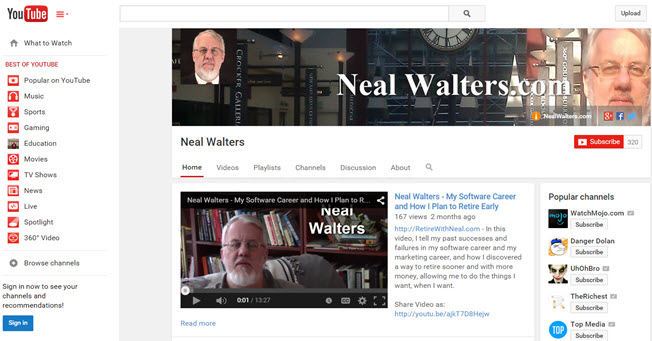 YouTube used to show the number of videos each channel had. I was really impressed with Dan MacDonald, aka "Dan the Man – the Life Regenerator". Dan is a raw food and health enthusiast who spreads his message in his shirtless videos. He had over 3000 videos when I first discovered him. He did one video a day for over 5 years. YouTube used to have a limit of 10 minutes, so most of his videos were short.
Here's a sample video that I use on my homepage. It's still a work in progress, this is just the first draft. My plan is to re-record it at least once a month, so that it gets better and cleaner each and very time.